Regular price
Sale price
$16.00 USD
Unit price
per
Sale
Sold out
Share
Curios: Jasper Park is an investigative horror mystery experience. An infectious story told over a series of missing persons reports, diary entries, and recovered footage.

The natural world has much to offer us: beauty, challenge, and sometimes danger. For those that foray out into the darkest parts of forests and mountains, some never come back. The search for those that disappear without a trace is long and arduous, especially when the missing don't want to be found.

Our second collection of elusive events is lost in the trees: The Case of the Jasper Park Disappearances. All that remains of the campers are recovered personal effects and the reports of where they've been. 
What lurks in the deepest parts of the forest? A group of seven campers in Jasper Park may have learned the answer. A regular backcountry camping trip goes wrong when some of the campers begin acting abnormally. The events that unfold leading up to their disappearance are clouded in mystery. The secrets lie in the recovered evidence left behind at their abandoned campsite. A diary, voicemails, and photos tell a story of a creeping dread surrounding these campers until they all flee their campsite in the middle of the night.
And their disappearance is only the beginning. Reports of disturbances from Jasper Park keep coming in.
As a researcher for the Archive, read through the reports, analyze the photos and footage. Create a timeline of the disappearances and the sightings of the missing campers over the years. Explore the connection between the missing campers and the covert quarantine taking place in Jasper Park. Most importantly, can you find out who or what visited the campers just before they disappeared? 
Curios: Jasper Park contains a missing persons case file that involves a series of unexplainable circumstances spanning from October 9 2003 to August 8 2005. Each new report details the attempts to locate 7 missing campers until the investigation closes and the search for the campers ends. The case file includes transcripts, witness reports, recovered photos, a recovered diary, and trail cam footage from deep within the park.
What happened to the missing campers? Are they connected to the quarantine in Jasper Park? And what has broken free? The answers are more than what's documented in the reports.
---
Product Specs
One digital case file (which contains: 6 investigation reports, 3 witness transcripts, recovered memo and text message transcripts, a recovered diary, 5 recovered photographs, a letter of warning, 10 trail cam stills, a secretive memo, and a cryptically annotated map)
---
Credits:
Created by Seb Pines
Editing by Will Jobst
Photo credit: Adam Bautz, Mark Guam, Electronker, Javier Kohen, Garry Knight, Michalis Famelis, Adam Baker, Jans Canon, Ted Kern, Richard Heyes, Dominic Alves, Brad Schafer.

View full details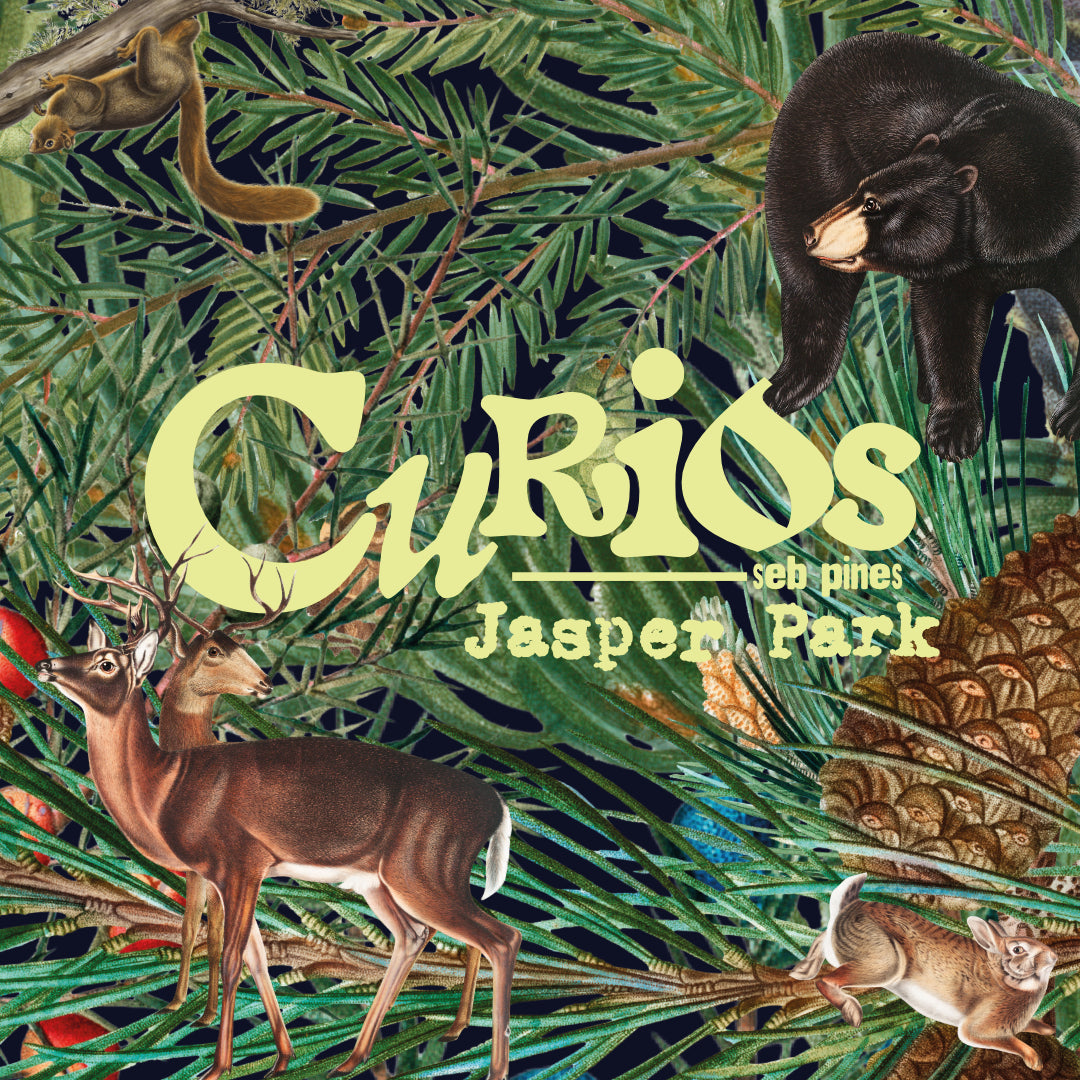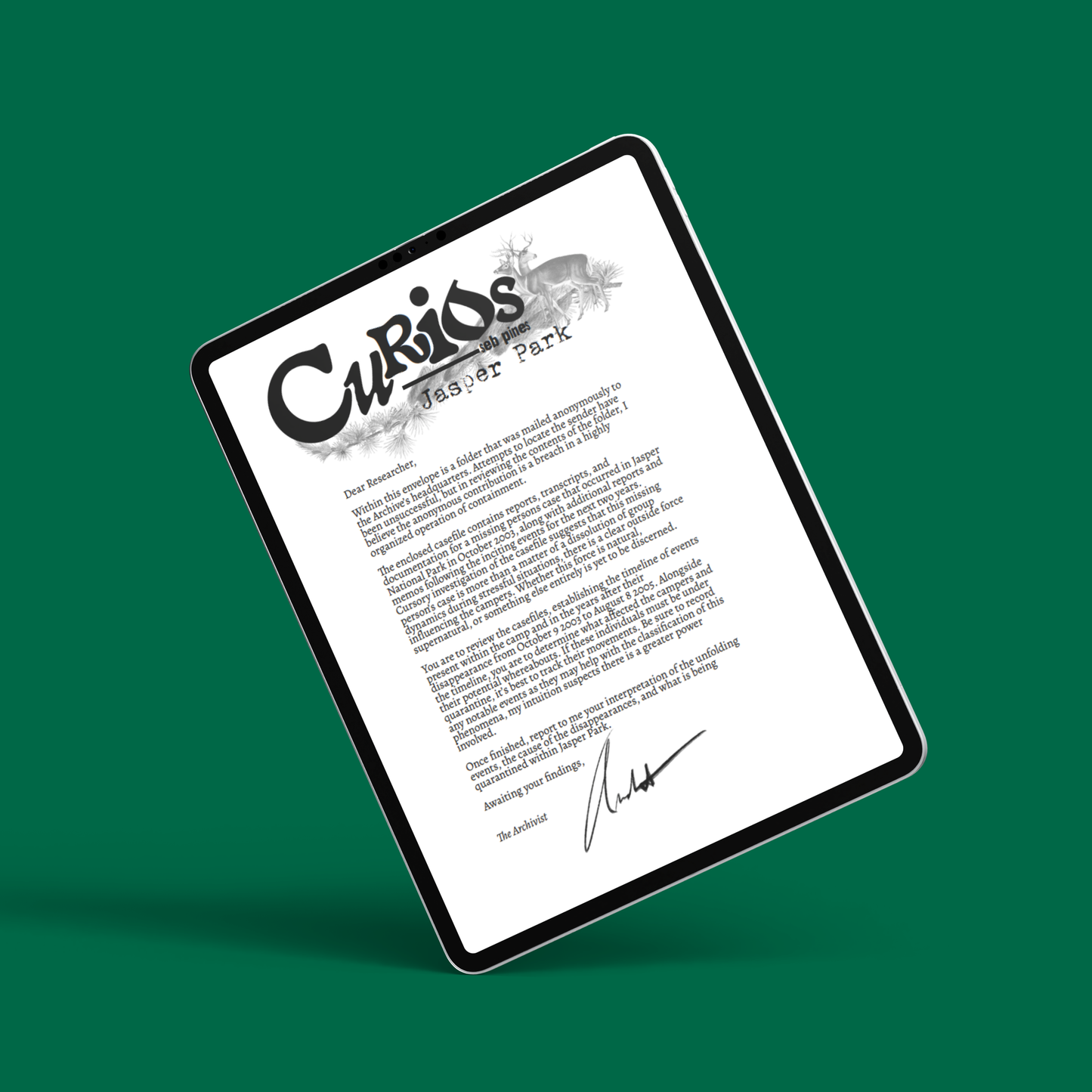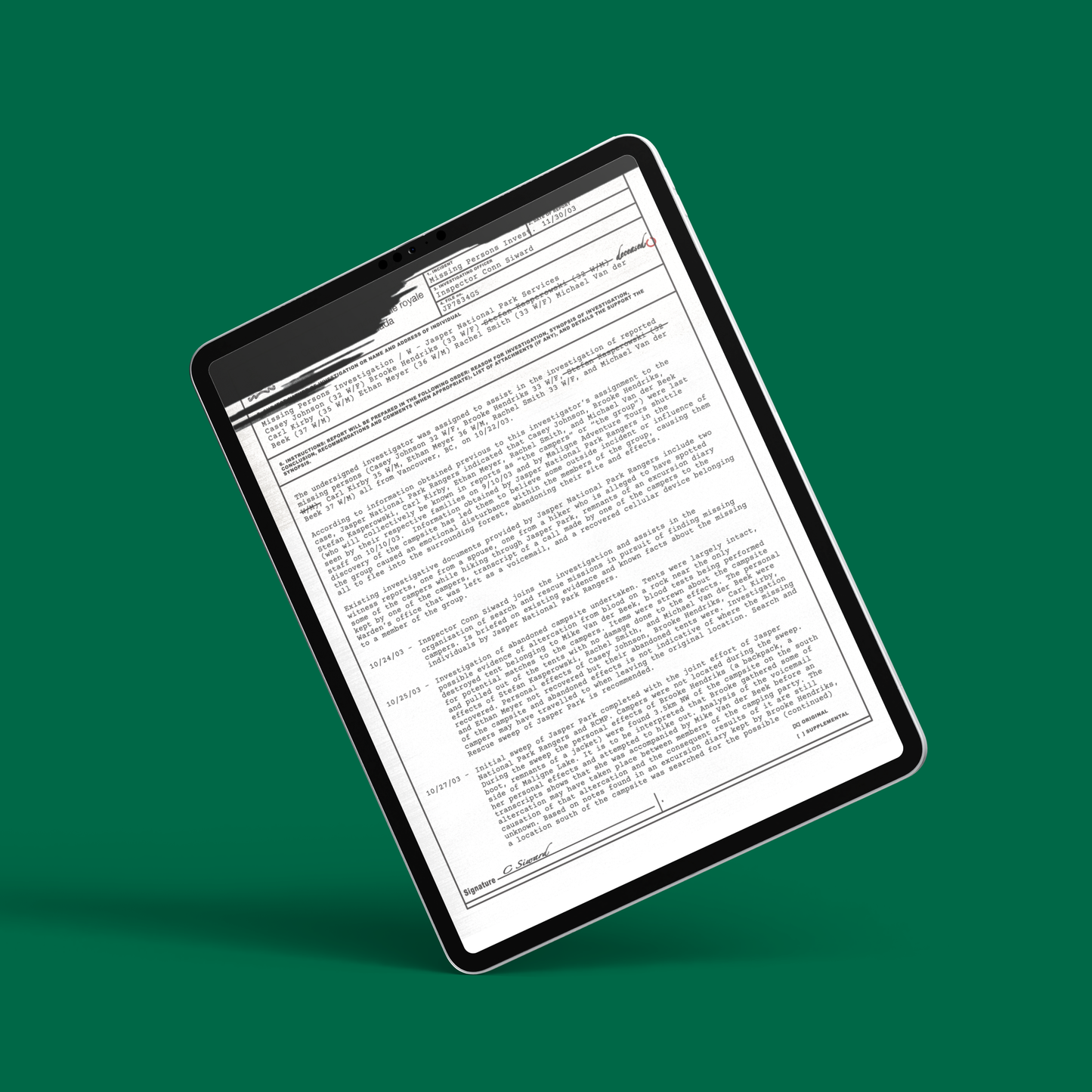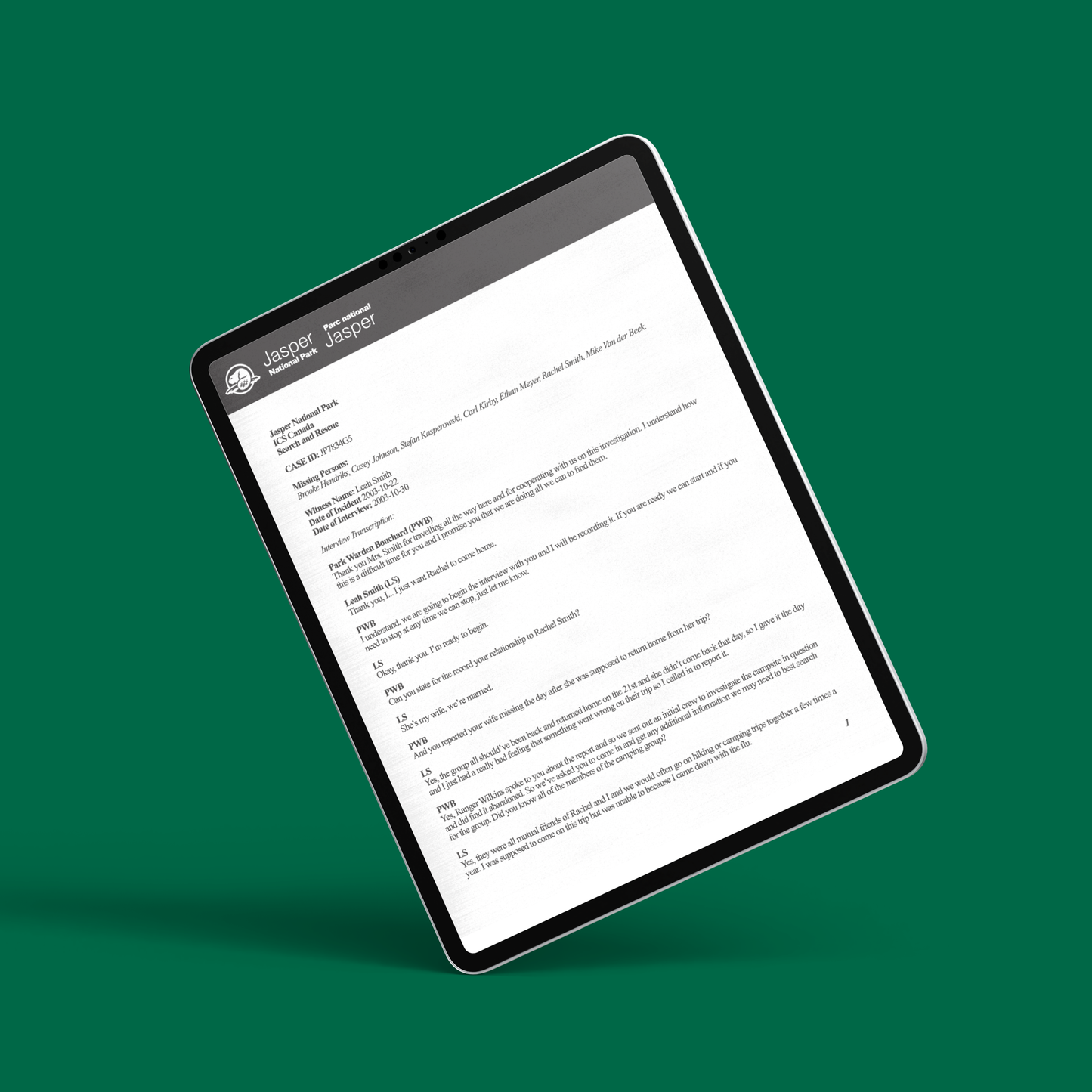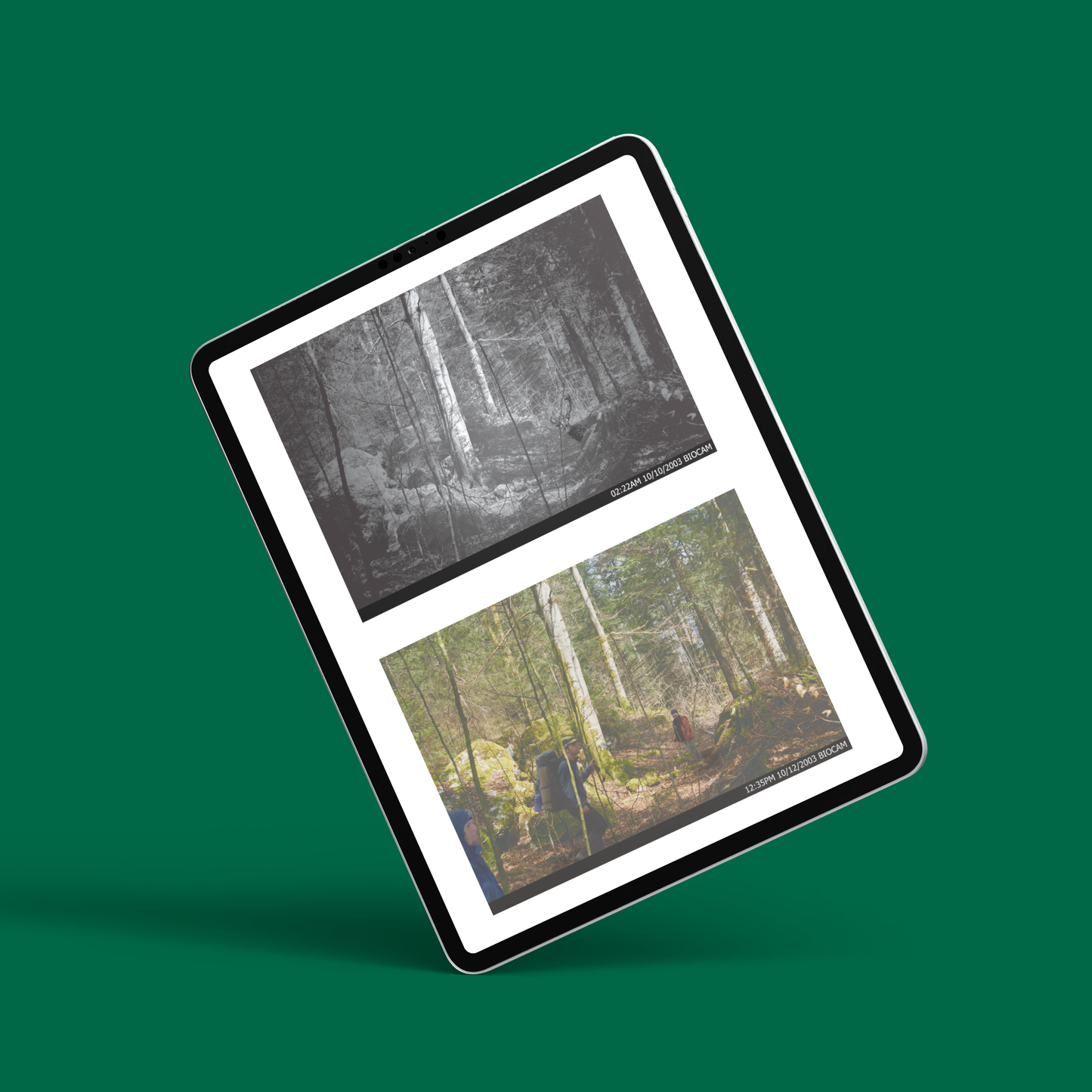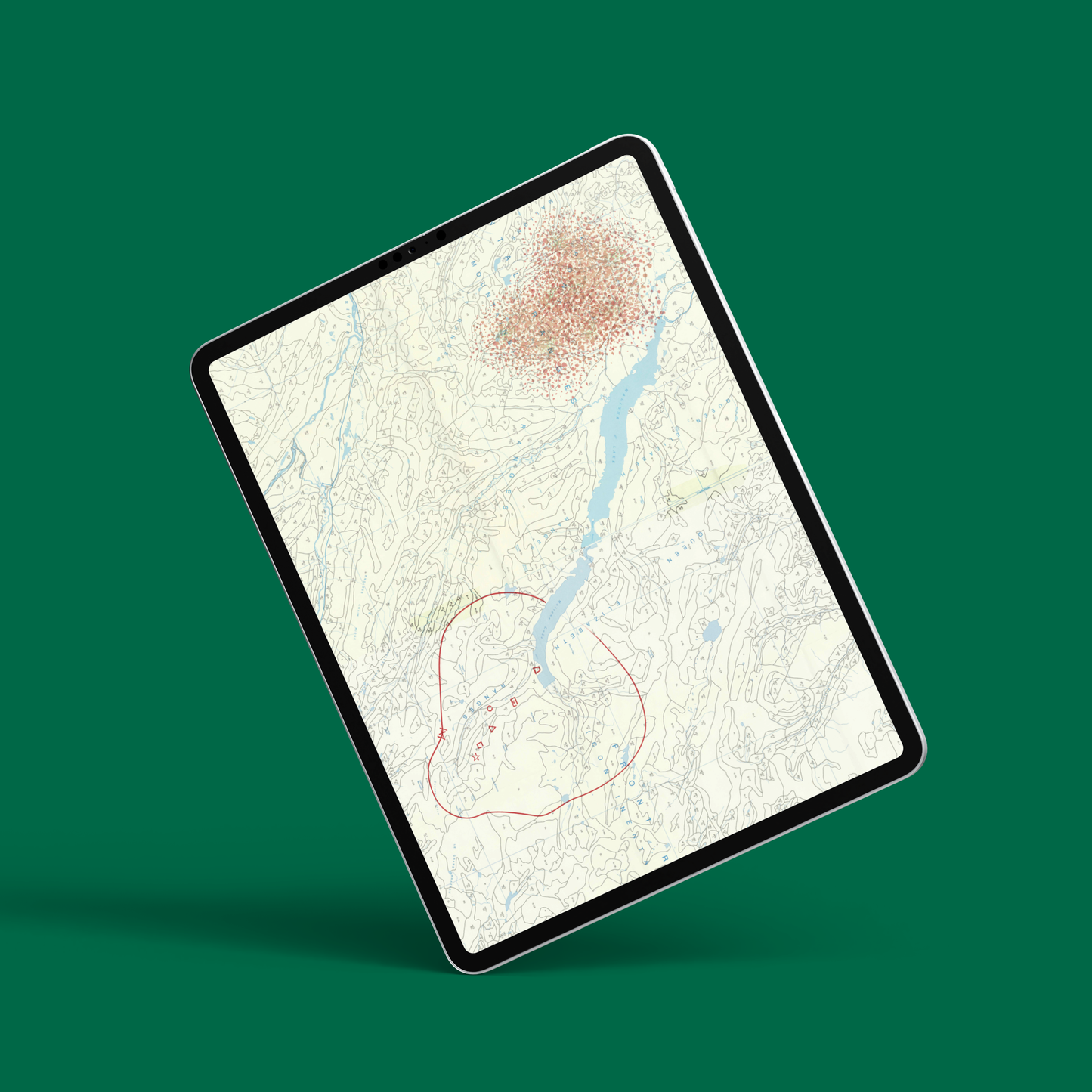 All physical editions of Good Luck Press games include a download of the digital edition.
Shipping

Orders will ship in 1-3 business days with Canada Post. Tracking is not included unless postage with tracking is selected at checkout.

More information here

Returns

We do not offer refunds on orders after they have been shipped. We do offer replacements in the event of damaged or lost orders.

More information here